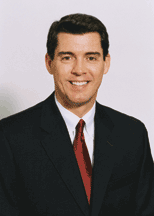 Gregory J. Waters, CFP®
Independence has followed Gregory J. Waters since entering the financial services industry in 1983. He began his career as an investment analyst with a national financial planning firm, where he was often the featured speaker for large groups of investment advisors, businesses and individuals. In 1989, Greg started his own company and laid the foundation for what today has become the Waters Financial Group.

Greg is a dynamic financial advisor in the St. Louis area and his retiree seminars have been widely attended by retirees of Boeing, AT&T and SBC. He has developed a specialty in working with retirees and those about to retire who want to preserve their principal and strive to ensure that their money lasts.

Greg holds a Bachelor of Business Administration degree from Southern Methodist University. He complimented his education by obtaining the Certified Financial Planner® designation from the College for Financial Planning in Denver, CO. He considers his greatest achievement to be the ongoing referrals he receives from existing clients.
One change made by 2017 tax legislation, a new way of measuring inflation, may have a significant effect on individual taxpayers over the long term.

IRS rules allow a working spouse to contribute to an IRA for a spouse who earns little or no income.

A discussion on the initial public offering (IPO) process, recent trends, and investment risks.

A family limited partnership is a legal agreement that enables business owners and their heirs to address tax issues, business succession, and estate planning needs.