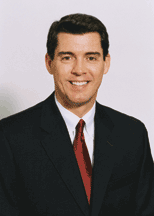 Gregory J. Waters, CFP®
Success has followed Gregory J. Waters since entering the financial services industry in 1983. He began his career as an investment analyst with a national financial planning firm, where he was often the featured speaker for large groups of investment advisors, businesses and individuals. In 1989, Greg started his own company and laid the foundation for what today has become the Waters Financial Group.

Greg is one of the premier financial advisors in the St. Louis area and his retiree seminars have been widely attended by retirees of Boeing, AT&T and SBC. He has developed a specialty in working with retirees and those about to retire who want to protect their principal and ensure that their money lasts.

Greg holds a Bachelor of Business Administration degree from Southern Methodist University. He complimented his education by obtaining the Certified Financial Planner® designation from the College for Financial Planning in Denver, CO. Although he has garnered numerous professional awards, he considers his greatest achievement to be the ongoing referrals he receives from existing clients.
What current trends in workforce automation could mean for U.S. workers, industries, and the broader economy.

A letter of instruction has no formal legal status, but it could be just as important as a legal will to help settle an estate.

An overview of nine different types of mutual funds, ranging from lower risk to higher risk.

The differences between term life insurance and permanent life insurance and the advantages of an individual policy.