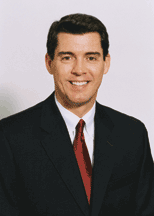 Gregory J. Waters, CFP®
Independence has followed Gregory J. Waters since entering the financial services industry in 1983. He began his career as an investment analyst with a national financial planning firm, where he was often the featured speaker for large groups of investment advisors, businesses and individuals. In 1989, Greg started his own company and laid the foundation for what today has become the Waters Financial Group.

Greg is a dynamic financial advisor in the St. Louis area and his retiree seminars have been widely attended by retirees of Boeing, AT&T and SBC. He has developed a specialty in working with retirees and those about to retire who want to preserve their principal and strive to ensure that their money lasts.

Greg holds a Bachelor of Business Administration degree from Southern Methodist University. He complimented his education by obtaining the Certified Financial Planner® designation from the College for Financial Planning in Denver, CO. He considers his greatest achievement to be the ongoing referrals he receives from existing clients.
A letter of instruction could be just as important as a will to help heirs settle an estate and move forward with their lives.

In the final quarter of 2018, interest-rate fears and unresolved geopolitical issues upset the financial markets and reversed many of the gains notched earlier in the year.

Find out how individual impact bonds may allow investors to preserve principal and generate income while supporting activities that are important to them.

A flat 21% tax rate may seem like a good reason for a pass-through entity to convert to a C corporation, but there are other factors to consider.
This calculator can help you determine how soon you can pay off your mortgage.

Use this calculator to estimate the federal estate taxes that could be due on your estate after you die.

Estimate of the maximum amount of financing you can expect to get when you begin house hunting.

Knowing your likely life expectancy is an important factor in making long-term financial plans.