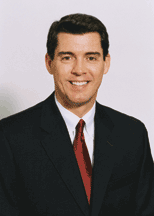 Gregory J. Waters, CFP®
Independence has followed Gregory J. Waters since entering the financial services industry in 1983. He began his career as an investment analyst with a national financial planning firm, where he was often the featured speaker for large groups of investment advisors, businesses and individuals. In 1989, Greg started his own company and laid the foundation for what today has become the Waters Financial Group.

Greg is a dynamic financial advisor in the St. Louis area and his retiree seminars have been widely attended by retirees of Boeing, AT&T and SBC. He has developed a specialty in working with retirees and those about to retire who want to preserve their principal and strive to ensure that their money lasts.

Greg holds a Bachelor of Business Administration degree from Southern Methodist University. He complimented his education by obtaining the Certified Financial Planner® designation from the College for Financial Planning in Denver, CO. He considers his greatest achievement to be the ongoing referrals he receives from existing clients.
Focusing on dividends can be appropriate for almost any investor, especially if they are reinvested to purchase additional shares.

Making accurate quarterly payments on schedule can help taxpayers avoid interest penalties for underpayment to the IRS.

The new tax law includes several provisions that could benefit business owners, such as the pass-through deduction and write-offs for capital investments.

Four financial numbers that you should understand (and that could potentially improve your financial situation).
This calculator can help you determine how soon you can pay off your mortgage.

Calculate the rate of return you would have to receive from a taxable investment to realize an equivalent tax-exempt yield.

Estimate the annual required distribution from your traditional IRA or former employer's retirement plan after you turn age 70½.

Estimate the future value of your current savings.