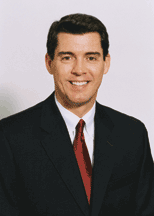 Gregory J. Waters, CFP®
Independence has followed Gregory J. Waters since entering the financial services industry in 1983. He began his career as an investment analyst with a national financial planning firm, where he was often the featured speaker for large groups of investment advisors, businesses and individuals. In 1989, Greg started his own company and laid the foundation for what today has become the Waters Financial Group.

Greg is a dynamic financial advisor in the St. Louis area and his retiree seminars have been widely attended by retirees of Boeing, AT&T and SBC. He has developed a specialty in working with retirees and those about to retire who want to preserve their principal and strive to ensure that their money lasts.

Greg holds a Bachelor of Business Administration degree from Southern Methodist University. He complimented his education by obtaining the Certified Financial Planner® designation from the College for Financial Planning in Denver, CO. He considers his greatest achievement to be the ongoing referrals he receives from existing clients.
A look at some of the challenges facing state pension funds and steps that might help improve the long-term outlook.

The Tax Cuts and Jobs Act of 2017 changed the playing field for municipal bonds that could affect the supply and demand of these securities.

A description of the 5 market indexes that are often used as benchmarks to track various categories of investments.

Here are some ideas for arranging a phased retirement program, as well as tips for trying a practice run.
How much Disability Income Insurance do you need?

Knowing your likely life expectancy is an important factor in making long-term financial plans.

This calculator can help you determine whether you should consider converting to a Roth IRA.

Estimate the potential cost of waiting to purchase a long-term care insurance policy.